2018: Mark & Brenda Williams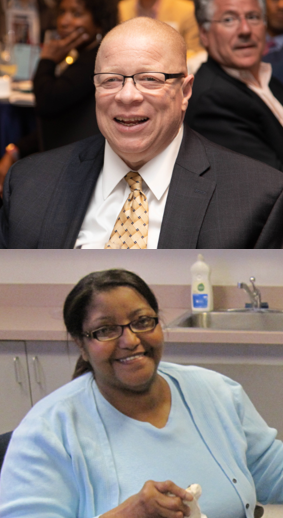 Mark and Brenda Williams have been affiliated with CFCS for 23 years, caring for 20 youth during that time. They are devoted foster and adoptive parents who provided a stable, loving, and fun home for the children in their care. They were strong advocates for youth in meeting their educational goals, maintaining connections to their family, and working through their difficult feelings to heal from their traumatic experiences. Brenda and Mark felt that each youth in their care should never feel excluding from the family or be viewed negatively by society.
The couple helped children to learn how to thrive in their day-to-day actions, from learning how to use a knife and fork, to walking the family dog Sandy, to identifying their feelings, and developing coping skills when they were sad, anxious, or angry.
The family enjoyed caring for sibling groups and felt that it was important for brothers and sisters to stay connected to each other and to their extended family members. Brenda and Mark embody the spirit of foster care through their commitment to therapeutic parenting and permanency. Children in their lives were touched by their love and commitment.
Sadly Brenda passed away in early 2018, leaving CFCS staff and fellow foster parents devastated by this loss. She will be remembered for her laugh, determination, and commitment to her family and community.
CFCS social work staff note that while living with Brenda and Mark, foster children "always knew that the couple had their back, even when they made mistakes. The kids in her home were so successful because she believed in them when they didn't believe in themselves; she kept supporting them so that they tried new strategies and let themselves be vulnerable, which led to a lot of development."
"She tirelessly advocated for Andy and his schooling; she sought outside education and support to better herself for him. She also fought for Carl's right to have a variety of school lunch options, despite his allergies. The kids saw this and it made a huge impact."