William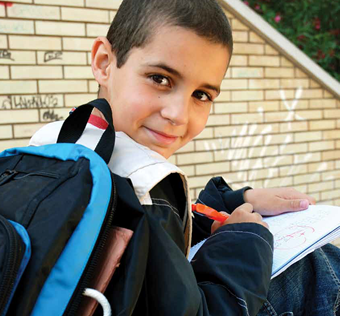 William was taken to the ER at the age of 2 months with extensive head trauma. Medical professionals believed that he had been shaken violently and he was diagnosed with shaken baby syndrome. He was in the hospital for six weeks and doctors did not anticipate that he would survive his injuries. William not only survived, but he has been a little fighter since day one, surpassing all odds and astounding all of his providers.
William was placed in a specialized medical foster home with a wonderful foster mother, who had worked for many years as a nurse. He got tons of attention and care and saw a plethora of doctors. William was also receiving four hours a day of home health aide support from a home health aide, who was also his foster mother's daughter. During this time, the home health aide and her husband fell in love with William and ultimately came forward as a pre-adoptive resource. We were able to approve the family as a pre-adoptive resource, and William moved into their home in October 2014. He has since thrived with the love, patience, and consistency of this family.
Although he has global developmental delays, William has continued to make great progress in all areas of his development. The brain is such a fascinating thing—the non-damaged parts of his brain have overcompensated for the damaged parts of his brain, allowing him to continue to learn new skills and adapt to changes. His family has been strong advocates for William and have provided him with exactly what he has needed, and have committed to him, no matter how uncertain William's future may be. We are thrilled for William and it has been such a pleasure working with this entire family!