Julia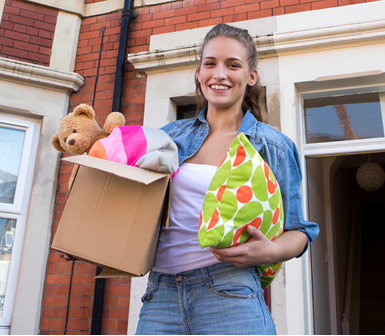 When Julia* came to CFCS at 17, she had already endured incredible adversity. After her biological mother lost parental rights due to drug addiction, Julia was adopted by her mother's friend, but like her previous home, her new caretakers were emotionally abusive. The MA Department of Children and Families (DCF) intervened and at age 17, Julia moved into Teens Learning Choices, CFCS' residential program for young women.
During her time at TLC, Julia worked hard and graduated high school. She advanced to CFCS's Independent Living (IL) program, moving into her own apartment and establishing financial independence. She was also able to benefit from Stepping Out, a CFCS support system for youth who have succeeded in IL.
Julia is now 23, with a child of her own, working full time as a legal secretary, and attending college part-time. She said she considers the CFCS staff with whom she worked as "the only reliable adults" she has ever known. A framed photo of herself with TLC counselors at her high school graduation still sits prominently in her living room. Julia attributes her strength in overcoming the hardest times of her life to the support of CFCS case workers and counselors. She is mature, hard-working, and independent. All of us at CFCS are extremely proud of Julia's success in the face of such significant challenges.
*name has been changed to protect confidentiality