Jason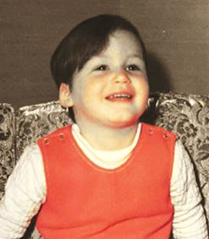 By an act of providence I was taken in as an infant at birth on July 5, 1967, in Boston, Massachusetts. After only four placements, I was adopted on June 2, 1969. I owe CFCS everything for saving my life and giving me much needed hope for this world. It turns out that was my Academy, Harvard and Yale.
My birth mother was just 20 years old when she gave me life, and with no emotional support from her family, placed me up for adoption shortly after I was born. Seventeen years later, she found me through a private investigator in 1984, at which time I was living in Lynn, Massachusetts with my adoptive mother.
I was put in contact with my birth father with whom I have had the most wonderful relationship even to this day. Spending time with my mother on Cape Cod, Massachusetts, and my father in Hot Springs, Arkansas, has given me a unique perspective. While I was blessed to be adopted, it was no less meaningful to be the child of good and loving birth parents.
I have been married twenty-five years this December 23rd and have two young boys ages 10 and 6. In 1984 I moved to California in search of a future. Today I am a Deputy County Counsel for Los Angeles County advising and litigating child abuse cases in the Juvenile Dependency Court in Monterey Park, California.
My life has come full circle and it humbles me.